First IAP Inventor in Colombia Chosen
December 4, 2015
On August 4, 2015, the first inventor to benefit from the Inventor Assistance Program (IAP) in Colombia was selected. Mr. Antonio Gonzalo Hoyos Barón is the inventor of a device to stabilize the handling of vehicles moving on unstable surfaces.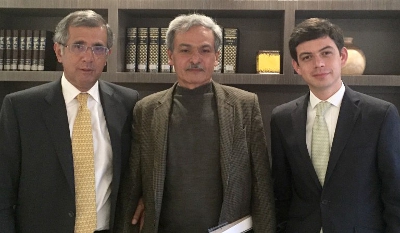 Mr. Hoyos Baron, a citizen of Colombia, has already filed a patent application at the Colombian IP Office, and will now be assisted with the administrative patent granting procedure by a pro bono patent attorney working within the framework of the IAP.
The legal services being provided to Mr. Hoyos Barón come courtesy of IAP member Baker & McKenzie. Following his selection, the Colombian inventor met with his IAP attorney, Dr. Alvaro Correa-Ordoñez (Partner at Baker & McKenzie), for the first time on October 30, 2015.
Selection process
Mr. Hoyos Barón was selected by the IAP Screening Board, established within the "Centro de Información Tecnológica y apoyo a la Gestión de la Propiedad Industrial (CIGEPI)" – a Technology and Innovation Support Center working with the IAP in Colombia. The Board met for the first time since the IAP's Colombian launch in April 2014 to select Mr. Hoyos Barón.