The United Kingdom Joins the Hague System
March 13, 2018
On March 13, 2018, the Government of the United Kingdom deposited its instrument of ratification of the Geneva Act (1999) of the Hague Agreement with WIPO's Director General Francis Gurry. This makes the United Kingdom the 54th member of the 1999 Act and 68th member of the Hague Union. The 1999 Act will enter into force in the United Kingdom on June 13, 2018.
Companies and designers from the UK have been using the Hague System to protect their industrial designs since 2008 thanks to the European Union's membership to the Geneva Act. As of June 13, 2018, Hague applicants both inside and outside the UK will enjoy more flexibility in their protection strategies as they will be able to designate the United Kingdom individually as well as the European Union as a whole.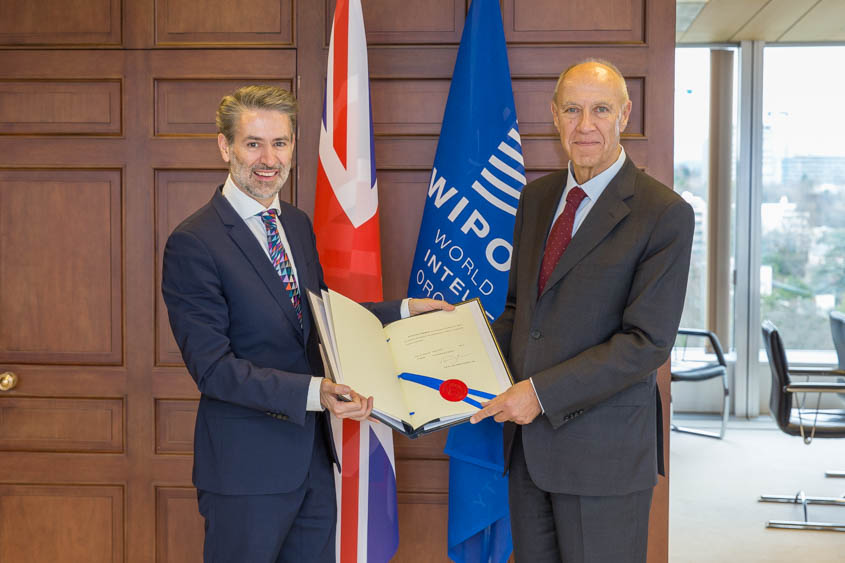 Legal details
The instrument of ratification, deposited by Mr. Julian Braithwaite, Ambassador and Permanent Representative of the United Kingdom of Great Britain and Northern Ireland to the United Nations Office and other international organizations in Geneva, includes the following declarations under the 1999 Act and the Common Regulations:
Article 4(1)(b) of the 1999 Act (no filing of international applications through UKIPO)
Article 17(3)(c) (duration of protection)
Article 11(1)(a) (the deferment period is shorter than 30 months).
About the Hague System
The Hague System offers a cost-effective, efficient means of registering industrial designs. A single application allows you to register up to 100 industrial designs in 68 countries and intergovernmental organizations. By using Hague, you do away with the need to file applications in each individual country/region.
One application, one set of fees, and all in one language – industrial design registration made easy!
Find out more
Questions or queries?
WIPO Hague System – The International Design System
WIPO's Hague System provides a unique international mechanism for securing and managing design rights simultaneously in more than 90 countries through one application, in one language with one set of fees.