GoGeoGo: Explore Georgia with the Locals
August 12, 2021
Helping strangers and boosting tourism: GoGeoGo, a local guide that fits in your pocket.
Meet fifteen-year-old Salome Tateshvili, her seventeen-year-old cousin Tamari Tateshvili, and their eighteen-year-old friend Saba Zedginidze – three teenagers at the First Public School of Akhaltsikhe, with an idea to revolutionize tourism in their native region of Samtskhe-Javakheti in Georgia.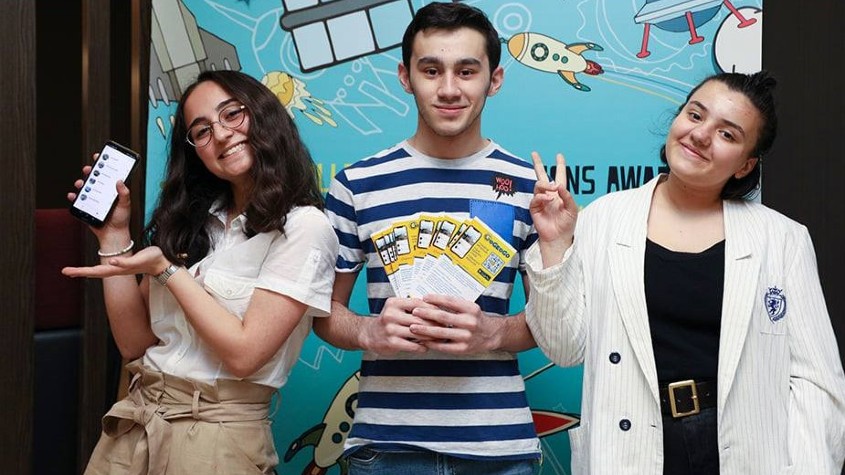 Three years ago, Salome, Tamari and Saba were going to a training course when they came across a lost tourist who was trying to get to Abastumani, a nearby resort town. They saw he was struggling with the complicated transport system and was unable to speak with the local transport drivers, so they offered to help him. This was the inspiration for GoGeoGo - a mobile application (app) to help tourists navigate the transport system in the Samtskhe-Javakheti region.
A team effort
Sharing a passion for computer science, coding and cyber security, they teamed up to develop the app for tourists in Georgia. The app took approximately three months to develop, as they needed to visit each bus station in their region to gather information on bus times and routes. The self-taught app developers learned about codes and app models using Google and YouTube while developing GoGeoGo. While they were not taught app development at school they benefitted from the mentorship of their physics and mathematics teacher, Marine Janashvili, who supported them while they worked on their app. Tamari's older brother, David Tateshvili, a computer science professional, and her sister, Ketevan Tateshvili, an intellectual property (IP) lecturer at Georgian Institute of Public Affairs also supported the group. Ketevan informed the trio about their IP rights as app developers and the role that copyright plays in the world of mobile apps.
It would be great if IP is taught in middle and high schools in Georgia, because we know many kids with great ideas who don't know their rights and how to protect their work. Kids are very creative in Georgia.

Salome Tateshvili, Co-founder of GoGeoGo
Navigating app development
Georgia's economy is heavily dependent on tourism and the team believe that GoGeoGo can help support the national economy and popularize the lesser-known small cities in the country. They hope tourists can benefit from some of their favorite parts of Georgia such as Rabati Castle and Sapara Monastry, examples of the beautiful mix of European and Asian architecture that reflect their country's rich history.
The app provides travel information for different destinations in the Samtskhe-Javakheti region. This includes bus times with a note about possible delays, in addition to the expected duration and prices for the journeys to prevent tourists from being over-charged. The app features pictures for some of the destinations as a visual aid for the user. They have integrated Google Maps into the GoGeoGo app with all of the bus stops bookmarked. Initially the app was only available in English, but to reach the internal tourism market during the COVID-19 pandemic they made it available in Georgian as well.
When designing GoGeoGo, the trio made sure to design a colorful app logo and icon which pays homage to the buses in Georgia.
We knew that the logo design was one of the main components of the app. We chose the yellow and blue colors for the logo because those colors in Georgia are associated with buses and traveling. If you look close enough at the logo you will notice that the letter "G" looks like a person's face. It also has small eye inside the letter, and that is because we believe that the GoGeoGo app is connected and dependent on our users.

Saba Zedginidze, Co-founder of GoGeoGo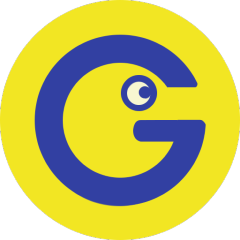 In 2020 Salome, Tamari and Saba sent a request to the Google Play Store to host their app for downloads and they were pleasantly surprised when their request was accepted. At first, their family, friends and classmates supported them by downloading their app, then they promoted it through social media platforms, distributed flyers across the region and placed posters in each bus station. They were thrilled to see several positive reviews on the Play Store from tourists who had used their app. To ensure it remains accurate and secure, their app is momentarily removed from the Play Store twice a year so it can be updated.
An award-winning idea
In 2019, they won first place in the Technovation Challenge with a group of five other girls from the Girl Up Club chapter in Akhaltsikhe – a club created by Tamari. Salome, Tamari and Saba also won third place in the mobile app category of the Millennium Innovations Awards in 2020.
The WIPO Academy has recognized the innovative and entrepreneurial efforts of the trio, awarding them the IP Youth Ambassadorship for Georgia in 2021 under its IP4Youth&Teachers Program, promoting IP among the youth in their country and the Central European and Baltic States.
They hope to add more features to the app, cover more regions in Georgia and make it available in other languages such as German, Russian and Spanish. They eventually plan to enable advertisements on the app so they can generate income. Additionally, they hope to make it available on iOs for Apple users.
What's next?
Their dream is to launch their own app development start-up in Georgia, and to help the Georgian government manage the country's transport systems digitally. In the near future Salome, Tamari and Saba plan to study computer science at university. When they're not busy learning how to code or coming up with new ideas for their app, they practice photography, singing, playing the ukulele and support other young innovators and entrepreneurs in their community through the afterschool clubs and the summer camps they often take part in.
If you have a good idea, don't give up on it. Start now, write it down and make a plan. People will encourage and discourage you, so you just need to be self-motivated at the end of the day. With access to a computer and internet you can achieve anything.

Tamari Tateshvili, Co-founder of GoGeoGo