Division for Asia and the Pacific
The Division for Asia and the Pacific is responsible for providing legal and technical assistance to 38 countries, 27 of which are developing countries and 11 are Least-Developed Countries in the Asia and Pacific region, in a tangible, impactful, and inclusive manner.
The Division engages multiple stakeholders, such as IP offices, other government agencies, and private sector entities in tailor-made programs on IP, to build experience and confidence in using IP, including trademarks, patents, designs, and geographical indications, as tools for innovation and creativity.
Collaborating with other WIPO units, the Division for Asia and the Pacific ensures that technical assistance are project-based, aligned with each country's priorities and will contribute to achieving the 2030 Sustainable Development Goals, building on its intrinsic knowledge and perspective of the country/region.
The Division also administers Funds-in-Trust arrangement for FIT/IP-ROK, and enjoys funding from FIT/China and FIT/IP-Japan.
Our activities include:
Initiating demand-driven cooperation that targets real impact through a structured framework of country and regional long-term national IP strategies, policies, and country/regional plans
Delivering technical assistance in a coherent and tangible manner using a multi-dimensional multi-phased approach
Engaging multiple stakeholders in capacity-development including IP intermediaries, innovators, entrepreneurs, and in particular SMEs. Further engaging universities and the research community to build capacity, skills, and knowledge in IP commercialization.
Providing hands-on skills training and mentoring, and facilitating systematic competency-based training including on brand strategy elaboration.
Promoting and supporting horizontal cooperation among IP offices through the Heads of IP Office Conference (HIPOC) and other initiatives, promoting South/South cooperation.
Developing online interactive self-help tools and other resources to scale up assistance and reach more stakeholders.
Embarking on digital transformation and communication initiatives, using new communication media channels
Management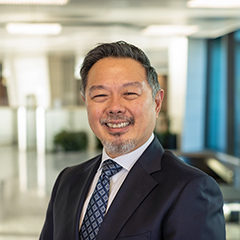 Director: Andrew Michael ONG